Save the date for
Saturday, April 1st and Sunday, April 2nd!
Embers Wood Grill,  Spark and Gatorland Toyota invite you to spend two days indulging in gourmet cuisine, fine wines and live music at our second annual Embers Wood Grill Wine & Food Festival!
Start the weekend on Saturday, April 1st with our inaugural Winemaker's Dinner at Embers Wood Grill. Award winning and talented Executive Chef Briton Dumas will marvel you with a magnificent seven-course dinner complimented by the legendary wines from Page Wine Cellars of Napa Valley and world-renowned sparkling wines of Moet-Hennessey. This VIP ticket also is entrance to the Embers Wine and Food Festival Preview Party at 1pm on Sunday, April 2nd.
Embers Wine and Food Festival on Sunday offers guests the rare opportunity to sample more than 200 wines, champagne and liquors that have been personally selected by our certified in-house Sommeliers Ryan Todd and Justin Hall.
Visit the Moet Hennessy Round Room and sip premium Champagnes you've never had access to before! As last year, our Signature Rooms will include the very popular cheese room filled with artisan cheeses from around the world, specialty desserts, a seafood and raw bar station and an outdoor grill station, all executed by award-winning Executive Chef Briton Dumas, Sous Chef Jason Lawnicki and the Embers and Spark culinary teams.
This decadent festival has now set the standard for epicurean events in
North Central Florida
– you won't want to miss it!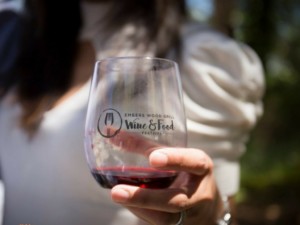 Our map of events for 2017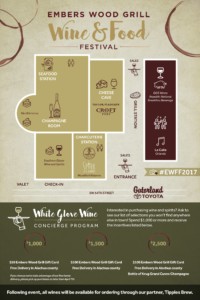 WE LOOK FORWARD TO SEEING YOU IN:
TICKETS
Don't Miss Out on Decadence!
Celebrating excellence in food and wine on
Saturday, April 1st &  Sunday, April 2nd, 2017
at
Embers Wood Grill, 3545 S.W. 34th St. in Gainesville.
Eventbrite fees apply.
Benefitting the Eastside Culinary Program Scholarship